Creating your Identitee
in house printing, design, engraving and embroidery
Our business is about taking a plain garment and adding a logo, image, message or statement to it. By customising the item of clothing, such as a t-shirt, sweatshirt or polo, we can turn a blank garment into a fully personalised high quality advertisement for you, your School, Team or Company.
We provide assistatance and advice to help you create the best image/logo for your needs; from colour matching your logo to a garment to helping you with artwork and choosing an imprint method. If you would like to know more about the services we can provide please contact the Create team who will be able to discuss your requirements with you.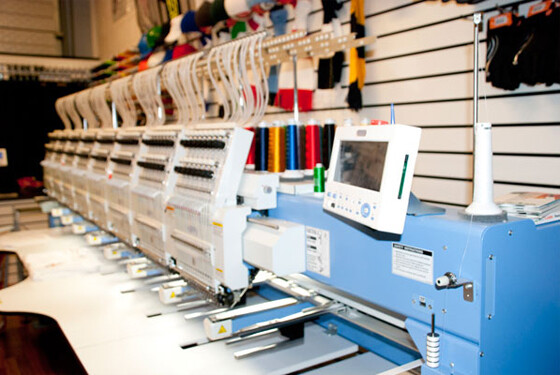 How do we do it?
We have an experienced team who have gained many years experience producing high quality printing and embroidery for all types of industries.
The team are able to assist with every aspect of your order from beginnning to end and will ensure that all your requirements are fulfilled.
We have invested in state of the art embroidery and printing machines that allow us to embroider or print across many different materials.
For the machines to be effective we need a high quality image that has been optimised for the printing process.
Our in house team can work with the existing imagery to ensure that we have the correct starting point and assist with enhancing the design if necessary to produce the best possible result.
Having multi-headed machines also allow us to be able to cater to both large and small production runs. This allows us to offer efficient personalisation throughout the production process.
Why choose Create Identitee?
A wide range of garments
Create Identitee have a huge range of garments and brands to choose from and cater for many differerent sectors including Schoolwear, Leisurewear and Workwear the list is endless. As we provide a one to one service we are able to cater for individuals and high volume orders.
state of the art embroidery & printing
Our experienced team are experts at using the state of the art embroidery and printing machines, ensuring a fantastic end result.
commited to quality
Our team carries out checks throughout the process to ensure your design and final product is produced to our high standard and meets or exeeds your expectations.
personal 1 to 1 service
Our team can work with you on an individual basis to customise garments to your exact needs. No matter the size of the order we can create individual garments, uniforms, teamwear to ensure you look smart and stand out from the crowd.
our store
Come in to our store located behind the Range in Edinburgh Way, Harlow, to see our extensive range of clothing for schools, work, leisure and teamwear etc.
We have facilities to try before you buy and our team will be able to assist you first hand with sizing, ordering and any other requirements you may have.
As the only Joma outlet in the UK we have an extensive Joma range available and now have the new Teamwear 2022 range available to order in store.
We also have Team equipment available in store or to order.
UK Based Dispatch
Being based in the UK allows us to customise and dispatch items quickly using reliable courier services . This will ensure tracking and provide you with updates regarding your delivery.
Our Skills
We have in house print, design, engraving and embroidery specialists all of which have been with Create Identitee for many years. We pride ourselves on how our team has grown and developed to meet our clients' requirements and ever changing needs.
We are proud to say that our skills are not only on how we produce garments and orders but how we meet the delivery expectations of our customers throughout the year.
We know our products and have honed our experience to ensure that we offer the best advice to meet requirements. We are used to creating a complete look, whether it be for a team, school, company or individual and can assist you to create a "look" across multiple aspects of the team activities, be it on the field, off the field, training and travelling. We have products to suit any requirements you may have.
Ready to customise your team garments?
Contact our team who will be happy to discuss and assist you with options
Contact Us